Mid Year Investment Outlook
Mission transition
What building back better means for economies and markets.
The core message for investors is to 'be prepared'. Be prepared for the coming cyclical transition, a lower phase of investment returns, and a policy regime shift which heralds mission economy risks and requires a strategic repositioning away from global bonds.
The consequence of strong investment performance in the economic recovery is lower expected returns now. That said, we still see value in regional equity pockets, as well as some parts of emerging market fixed income.
So far this year, the global economy has been in a 'restoration phase'
What this has meant for markets
| | | | | |
| --- | --- | --- | --- | --- |
| Bond returns were negative just about everywhere amid inflation pressures. China has been the stand-out positive bond market this year. | | Global stock market performance has been impressive. But those returns have been uneven as investors rotated towards cyclical sectors such as financials and industrials. | | Real economy assets also fared well, especially industrial commodities such as metals, which have been a top performing asset class so far this year. |
The economic cycle is now transitioning to the 'expansion phase', with some regional divergences
The business cycle is moving quickly. There are some important regional divergences, however.
| | | | | |
| --- | --- | --- | --- | --- |
| China is in the most advanced positon in the cycle. We expect growth to cool from here. | | In developed markets the US is outperforming, while Europe and the UK lag. Both are set for a rapid catch-up growth phase. | | Some emerging and frontier economies are yet to transition into the expansion phase. Large output gaps create a big scope for catch-up. |
State activism is pushing us toward the 'mission economy'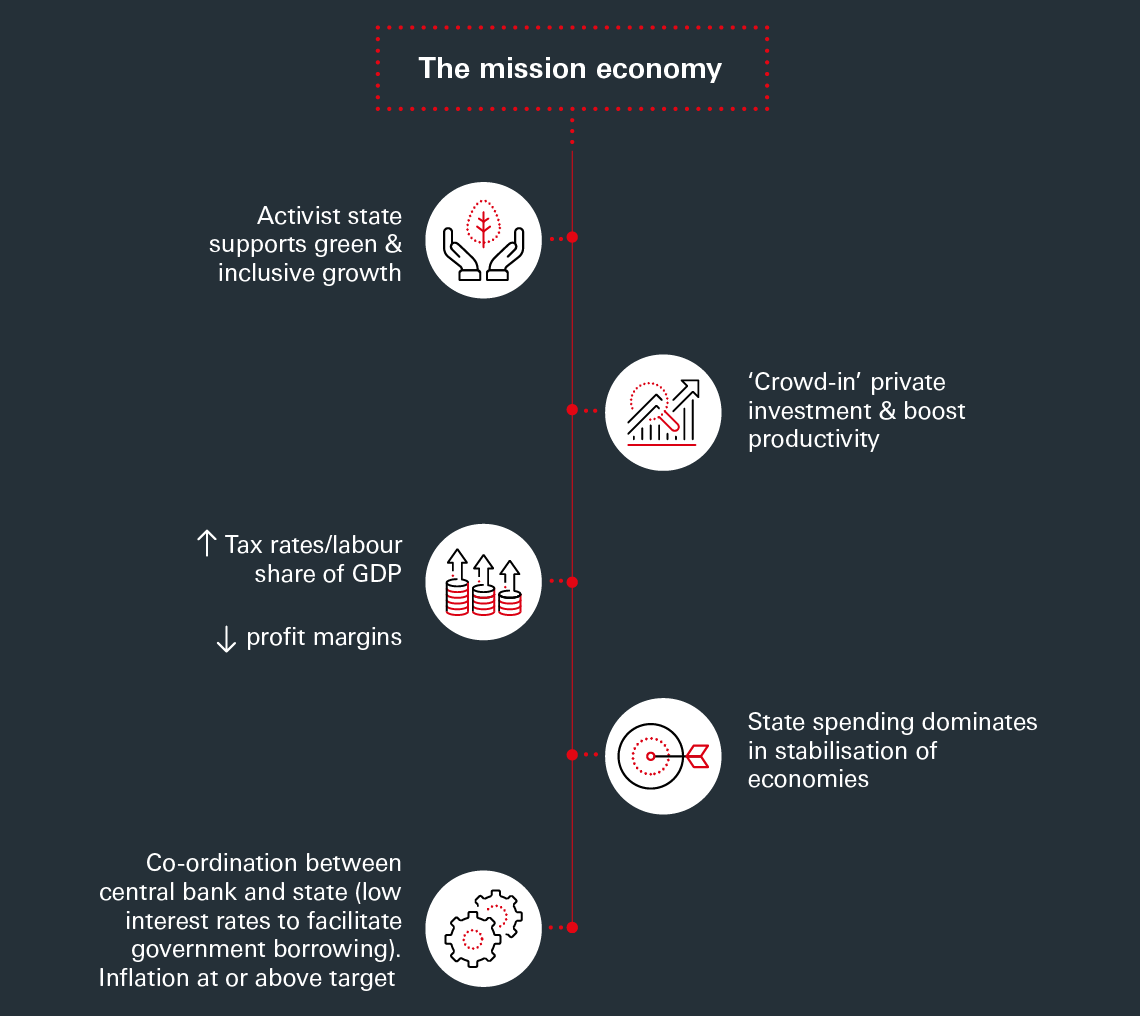 What this means for portfolios
How investors build portfolio resilience for a mission economy will be a critical decision. As the balance of economic risks shifts, bonds are destined to lose their ability to provide cheap protection.
| | | | | |
| --- | --- | --- | --- | --- |
| One idea is to find new portfolio diversifiers among a broader universe of alternative asset classes. | | We should look to get as close to inflation-protected cash-flows as possible. Infrastructure debt is a strong candidate for that. | | Or we could increase allocations to commodities such as copper (the oil of the mission economy). |
Considering your equity allocation
A lot of good news is already priced in, but stronger profit growth is likely to come from today's laggard areas.
| | | | | |
| --- | --- | --- | --- | --- |
| Exposure to smaller companies that directly benefit from local economic growth makes sense. | | In emerging markets there is clearly a catch-up opportunity outside of North Asia. However, a strong rebound in growth may be further out. | | We believe a number of ESG themes have yet to play out. An example of this would be in the sustainable healthcare space. |
Considering your fixed income allocation
While global bonds face a challenging environment, there are pockets of opportunity.
| | | | | |
| --- | --- | --- | --- | --- |
| Asian bonds could serve as a substitute for global bonds, with higher yields and lower correlations to equity markets. | | Asset-backed securities offer the benefit of floating rate structures – a useful diversifier given their value is not dependent on interest rate levels. | | Total return solutions offer clients more active management and can deliver less sensitivity to interest rate movements. |
Read the full Mid-Year Investment Outlook
Investment expertise
The value of investments and any income from them can go down as well as up and investors may not get back the amount originally invested. Past performance is not a reliable indicator of future performance. Any views and opinions expressed are subject to change without notice. Any forecast, projection or target where provided is indicative only and is not guaranteed in any way. We accept no liability for any failure to meet such forecast, projection or target. The information provided does not constitute any investment recommendation in the above mentioned sectors, asset classes, indices or currencies.